Whats New?
Make Lvl 61 Stakers min 60 def, Lvl 38 1 def pures for Events!
The Goal is keep adding content for best RSC Play!
Need Help?? Join Discord Here
Runescape Classic Private Server - RSCArea Home
Support RSCArea
Hey! You must like it here and are looking to help out. Without players like you we wouldn't be here, so you will get some perks!
Supporter Incentives:
21 days of subscription for chosen character.
All Experience Rates will be 50% Faster.
Fatigue to 200 percent instead of 100 percent
Longer AFK timer from 15 minutes to 30 minutes.
Global chat + regular username color change.
No wait time for ::Say global chat.
Become a member of the supporter group on forums and ability to change your Title.
Keeping RSCArea online, without your help we wouldn't have a community!!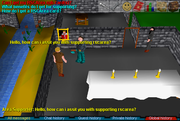 You are donating your money to fund RSCArea and will receive RSCArea Subscription Cards in game.
$10- 1X RSCArea sub card
Subscription cards are stackable on characters and you may purchase as many as you would like.
Below is a Paypal method, put your exact character name in the note with donation.
You will be notified of your RSCArea sub card(s) that are ready upon logging in that character.
Any issues at all please contact Administrator Trill in game or forum PM.
Always accepting donations from people who wish to help fund the server. Just use the donate button.